Thanks to blockchain technology and cryptocurrencies, the world is seeing innovation at a staggering scale. One such innovation is Sweatcoin, a top-ranked health and fitness application that encourages users to adopt a healthier lifestyle by using various rewards as an incentive. In 2022, Sweatcoin announced that it would launch its own cryptocurrency, the Sweatcoin token (SWEAT). The token is based on the NEAR and Ethereum blockchains and will be utilized as an incentive to attract more users to the app.
This post will help understand the concept behind Sweatcoin, how it works, and what are its various use cases.
What Is Sweatcoin?
Sweatcoin can be described as a play-to-earn project founded on the belief that movement and an active lifestyle could have real value. Sweatcoin utilizes decentralized finance (DeFi) and non-fungible tokens (NFTs) to unlock value that is returned to the user. Meanwhile, the DAO allows users to participate in the governance, development, and decision-making process of the Sweatcoin ecosystem.
The project gives users a new avenue for value creation, allowing users to earn through movements recorded on the app. Sweatcoin is also an open-source project, allowing everyone to advance the project.
Initially, the Sweatcoin token was a non-crypto token, and when users who downloaded the application attained a specified number of steps, they were given Sweatcoin tokens. Token holders can redeem these tokens for rewards from organizations such as Headspace and Audible. Alternatively, users could also donate these tokens towards charitable causes. In theory, the Sweatcoin token offers several similarities to cryptocurrencies, which prompted the team to create the Sweatcoin token (SWEAT)
The Sweatcoin Token (SWEAT)
Sweatcoin's token generation event took place on the 12th of September. After the token generation event, the only way to mint new SWEAT tokens is through movement, verified by movement validators. Initially, SWEAT will only be available to eligible Sweatcoin users who opt in. After the token generation event, the current Sweatcoin balance of users will be matched 1:1 with the SWEAT tokens. After the 12th, earning SWEAT becomes trickier, as your first 5000 steps each day would allow you to mint new SWEAT, while any more steps would mint Sweatcoins as usual. While 1 Sweatcoin will always be equal to 1000 steps, SWEAT will become more difficult to mint as time passes.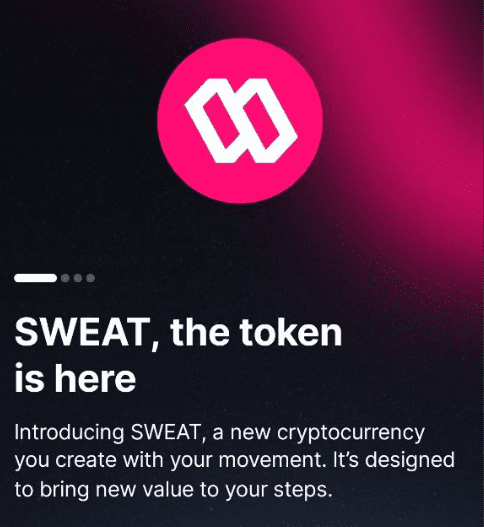 What term best describes Sweatcoin as a project?
How Does Sweatcoin Work?
Let's understand how Sweatcoin and the Sweat economy both function. The free Sweatcoin app is available on the Apple App store and Google Play. Once you download and install the app on your device, the app monitors your activity throughout the day, tracking the number of steps taken. As a user, you can earn one Sweatcoin for every 1000 steps recorded. Users can redeem these coins and purchase various things such as running shoes, digital watches, music downloads, energy drinks, and more. The more you walk, the more Sweatcoins you stand to earn.
According to the whitepaper, Sweatcoin was created to incentivize people to keep moving, reward movement, and create a healthier planet. Anyone in the Sweat economy can earn and contribute to it. Initially, the SWEAT was available only to eligible users who could download the Sweatcoin app. By Q1 2022, Sweatcoin had grown to 65 million users, a number that reached 110 million users by August 2022, with the number expected to grow further.
The SWEAT token can be minted only through verifiable movement. A stable number of users helps increase the input (steps); as more users join the network, the input would increase exponentially. Furthermore, each new SWEAT token would require more steps to mint than the previous token. This aligns with Sweatcoin's goal of making the world more physically active. With each new SWEAT token increasingly harder to mint, it not only acts as an incentive for users to keep moving but also preserves the utility of the SWEAT token.
The user movements are validated by movement validators who update the blockchain. Consistent validation is critical to ensure the integrity of the underlying asset (SWEAT). As mentioned earlier, users can earn one SWEAT token for every 1000 steps achieved. Validators receive data from the user devices and detect any fraudulent movement through an algorithm, ensuring that only true movements are recorded.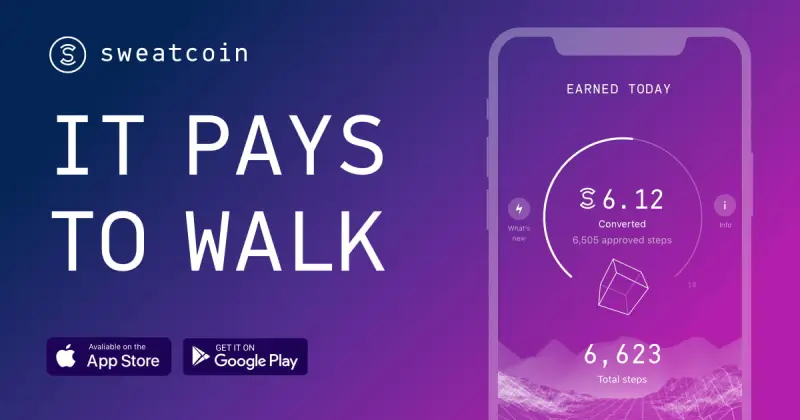 SWEAT token is based on which blockchains?
Future Plans For Sweatcoin
The Sweat economy also has its own crypto wallet, the Sweat Wallet, and also plans to introduce NFTs into the ecosystem. Additionally, there are plans to allow users to purchase SWEAT directly using fiat currency by the end of 2022. The team has also announced plans to create an NFT marketplace and make the SWEAT token available on decentralized exchanges. Eventually, the governance of the Sweat economy and SWEAT will be passed on to a decentralized autonomous organization (DAO). Eventually, the minting of Sweatcoin will be expanded to other methods of activities such as cycling, swimming, etc.
After the token generation event, users can mint SWEAT by
Learn On NEAR Club
Learn NEAR Club (LNC) is an all-inclusive, hands-on onboarding platform for the NEAR protocol, where you can learn how to use and build on the NEAR protocol, and earn NEAR tokens. LNC features a host of onboarding guides and courses. Users on LNC also stand to earn nLearns, which are basically internal points, which act as a reward for outstanding learners. Users on LNC can start with NEAR Guides, NEAR Courses, or mint their own (L)Earner NFT. 
Now that you have learned to SWEAT, you can go over to the Learn NEAR Club, and (L)Earn. You can also check out the Sweatcoin Guide available on LNC, along with a host of other guides and courses.
What can you do with your Sweatcoins?