When NEAR launched its mainnet in 2020, it also launched a wallet built and hosted by the Near Inc. (then Pagoda.) core team at https://wallet.near.org to support its unique account model. Today, an array of open-source wallets call the NEAR wallet ecosystem home. As NEAR continues its decentralization drive, it significantly changes its wallet ecosystem. Let's look closer at the changes in question, their impact, and how users can prepare for them.
💡IMPORTANT HINT
Always backup your recovery phrase
First try to migrate a "non-essential" account to test how the process works for you
Incoming Changes
NEAR's mission has been to create and support a vibrant Web3 ecosystem. Over the next few months, Pagoda will begin migrating the original NEAR wallet domain from a browser wallet to a wallet hub. This will allow the domain to become a reference point for all NEAR wallets, enabling users to discover, select, and implement the wallet that suits their requirements and giving them greater flexibility as they navigate the Web3 space. Wallet holders are encouraged to migrate their accounts to new ecosystem wallets, and the team has also created tutorials with step-by-step instructions to simplify the process.
NEAR aims to create a thriving ecosystem consisting of multiple wallets. For this, a single point of integration for developers building on the protocol is vital. The new ecosystem will offer users over 30 wallet options, making it easy for users from other ecosystems to interact with the NEAR blockchain using a wallet they are already familiar with. This strategy enables a thriving ecosystem of wallets on NEAR, making Web3 as easy to use as Web2.
Transferring Your Accounts From NEAR
If you currently use https://wallet.near.org as your primary wallet, you can use the Wallet Transfer Wizard to complete the migration without risking your funds. The Wizard will also allow you to select between Browser and Extension-based wallets, ensuring you have the same experience you are accustomed to even after the migration.
NEAR Wallet will continue to function as a browser wallet until the 31st of October, 2023. Users are encouraged to transfer their accounts to a new provider before the date lapses. This can be done manually using the recover phrase or the Transfer Wizard to securely migrate the accounts to their preferred wallet. Furthermore, even if users have not transferred their accounts by the 31st of October, 2023, the transfer wallet will still be available, even after the wallet functionality ceases.
Let's look at the different methods available for users to transfer their accounts.
Using The Recovery Phrase
Importing the recovery phrase is the most familiar way for users to transfer their accounts to a new wallet. However, if you wish to ensure your accounts' security or transfer multiple accounts, we highly recommend using the Wallet Transfer Wizard. Should you choose to go ahead and use the recovery phrase, you will first be required to disable two-factor authentication (2FA). This can be done through your account settings under the "Security & Recovery" tab on the current wallet.near.org domain—Disable two-factor authentication in all accounts before migrating to another wallet provider.
Turning off two-factor authentication is critical because it will no longer be supported, rendering your account inaccessible until 2FA is disabled. However, if you use the Transfer Wizard, it will automatically disable 2FA, along with email and phone verification.
Using Ledger
If you use a Ledger to secure your account, you have the option of importing your account to hardware-supported wallets such as the Sender Wallet or Nightly Wallet. However, it is essential to remember that Ledger-secured accounts cannot be transferred using the Transfer Wizard. Just as you did when migrating using the Recovery Phrase option, you will be required to disable 2FA. This can be done by accessing "Account Settings" under the "Security & Recovery" Tab. Disable 2FA in all accounts before migrating to another wallet provider.
Using The Wallet Transfer Wizard (Highly Recommended)
The Wallet Transfer Wizard allows users to transfer all their connected accounts seamlessly and offers a thorough security checkup to ensure that all accounts are safe. The Wizard also provides:
A step-by-step guide on removing old access keys.
Bulk transfer of connected accounts to the wallet of your choice.
Key rotation.
The Transfer Wizard helps improve your connected accounts' security before migrating them to a new wallet. It does this by rotating your keys, cleaning up the old keys, and securely transferring your accounts. The Wizard can be accessed from the banner at the top of the wallet.near.org page.
Which Is The Most Familiar Way For Users To Transfer Their Accounts?
How Does The Wallet Transfer Wizard Work?
Now, let's take a quick look at how the Wallet Transfer Wizard functions.
Step 1: Securing Your Account
We recommend rotating your keys and generating a new 12-word recovery phrase, similar to how you would update your password. Securing your account involves the following steps.
Generate a new 12-word recovery phrase.
Verify the new recovery phrase.
Save the newly generated recovery phrase in a secure location or write it down on a piece of paper. Additionally, you must also confirm the account it recovers and ensure that you don't mix it up with the old recovery phrase.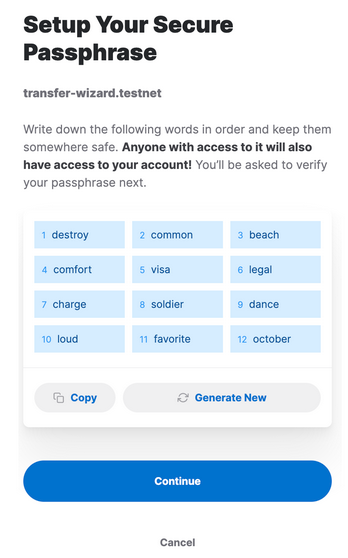 Step 2: Clean Up The Keys
The next step is to clean up your keys. This step is vital because NEAR wants to reduce the number of apps that the keys have been shared with. Once this step is executed, you may be disconnected from some apps. Cleaning up your keys involves three steps.
Review the suggested keys you wish to remove.
Enter the recovery phrase to confirm the removal.
Remove all outdated keys. Once completed, you may need to log back into certain apps if their limited access keys have been removed.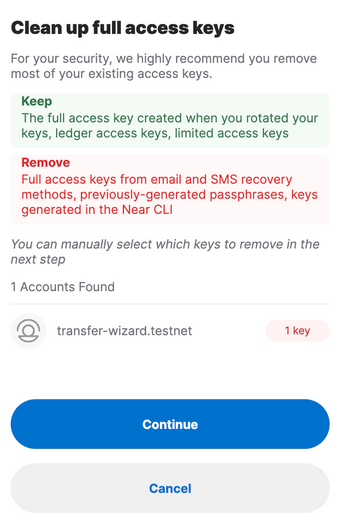 Step 3: Transfer Accounts
Now, use the Wallet Selector and choose the wallet to which you wish to transfer your accounts. Transferring your accounts involves the following steps.
Select the wallet you wish to transfer your accounts to.
Next, select the accounts you wish to transfer.
Copy a temporary password and secure the account transfer.
Enter the password into the destination wallet.
Complete the wallet setup and account transfer by following the accompanying instructions. However, this step may vary from wallet to wallet.
Once you have completed all the steps listed above, confirm that you have access to all your accounts in the new wallet. Once confirmed, return to wallet.near.org and complete the transfer process.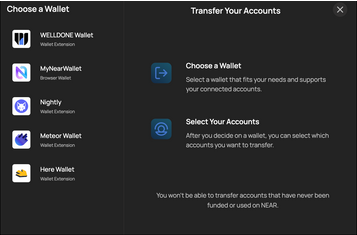 What Is The Recommended Method For Users To Transfer Their Accounts?
Step 4: Log Out Of Near.org
The last step is to log out of your NEAR wallet and start using your new wallet.
Once the account transfer has been completed, return to wallet.near.org and click "Complete."
Check if you have access to all your accounts in the new wallet.
Log out of all accounts located on near.org.
Once completed, you are set to use your new wallet and manage your accounts.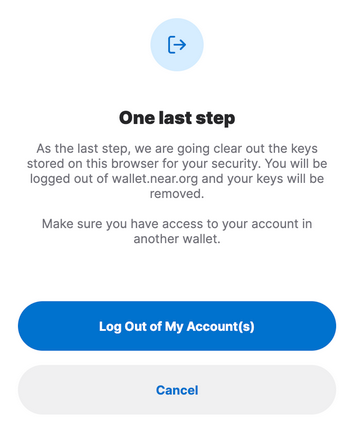 How to migrate to HERE Wallet
Login via web wallet is the easiest way to export your account to HERE.
It just takes 3 clicks!
Supported Wallets
The Transfer Wizard supports a number of wallets. If you wish to learn more about the supported wallets or do a comparison, you can refer to this Google Sheet. Some of the supported wallets include MyNearWallet, HERE Wallet, Meteor Wallet, Welldone Wallet, and Nightly Wallet.
With these changes, NEAR is entering a new era and taking a significant step toward achieving a truly decentralized ecosystem controlled and driven by its community. This new ecosystem will help enhance user experience, with the wallet hub and wallet selector enabling users to select the wallet that best fits their needs, helping NEAR bring the full spectrum of Web3 uses and experiences to users.
What Are The Wallets Supported By The Transfer Wizard?
Have your say!
Please login to see this form