INTRODUCTION
Blockchain technology presents a realm of boundless opportunities, including financial autonomy. However, it's undeniably challenging for newcomers to navigate this complex world.
Why is it difficult? Primarily because freedom, which is the main motivation for many of us, comes with responsibility. This responsibility encompasses managing your actions, losses, investments, potential scams, assets, and wallets. In the decentralized web, safeguarding your cryptocurrency relies solely on you, with no one else to depend on.
Yet, assuming responsibility isn't the only barrier to entry in the world of cryptocurrency. The complexity of understanding many decentralized applications (Dapps), both in terms of their interfaces and functionalities, is another crucial factor to consider.
Meteor wallet aims to achieve several key objectives, such as facilitating mass adoption of web3 and becoming NEAR's top wallet. It seeks to foster healthy competition with other notable projects like MyNear, Sender, HERE, and NEAR's native wallet.
We are fortunate to be part of an exceptional ecosystem where each of the aforementioned projects has its unique strengths. So, what sets Meteor apart? It can be best described as an all-in-one wallet.
The term "all-in-one" refers to the extensive range of features and functionalities that Meteor packs into a single, user-friendly wallet. These tools assist newcomers, who may have limited knowledge, in navigating Web3 and the blockchain landscape. In the subsequent paragraphs, we will explore some of these features and delve into Meteor Wallet's objectives as a Web3 project.
WHAT IS METEOR WALLET?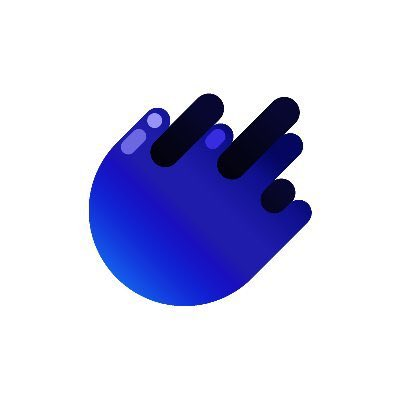 Meteor Wallet is a comprehensive, user-friendly wallet designed for secure and straightforward management of your cryptocurrency while also enabling access to decentralized applications (dApps) within the NEAR ecosystem. Meteor is currently available as both a web wallet and a browser extension. Its primary objective is to become the preferred wallet that simplifies the NEAR blockchain experience for users, all within one powerful wallet application.
FEATURES
Introducing everyday users to web3 can be a challenging task. That's why, at Meteor, we have implemented and plan to roll out several features to streamline the onboarding process for everyone involved.
FREE NAMED WALLET CREATION
Meteor offers a free named wallet, an intuitive feature that can be set up in under a minute. This user-friendly option is far more convenient than using traditional alphanumeric addresses that are difficult to remember. If you're interested in creating your own Meteor free named wallet, follow this step-by-step guide carefully. Click here to get started.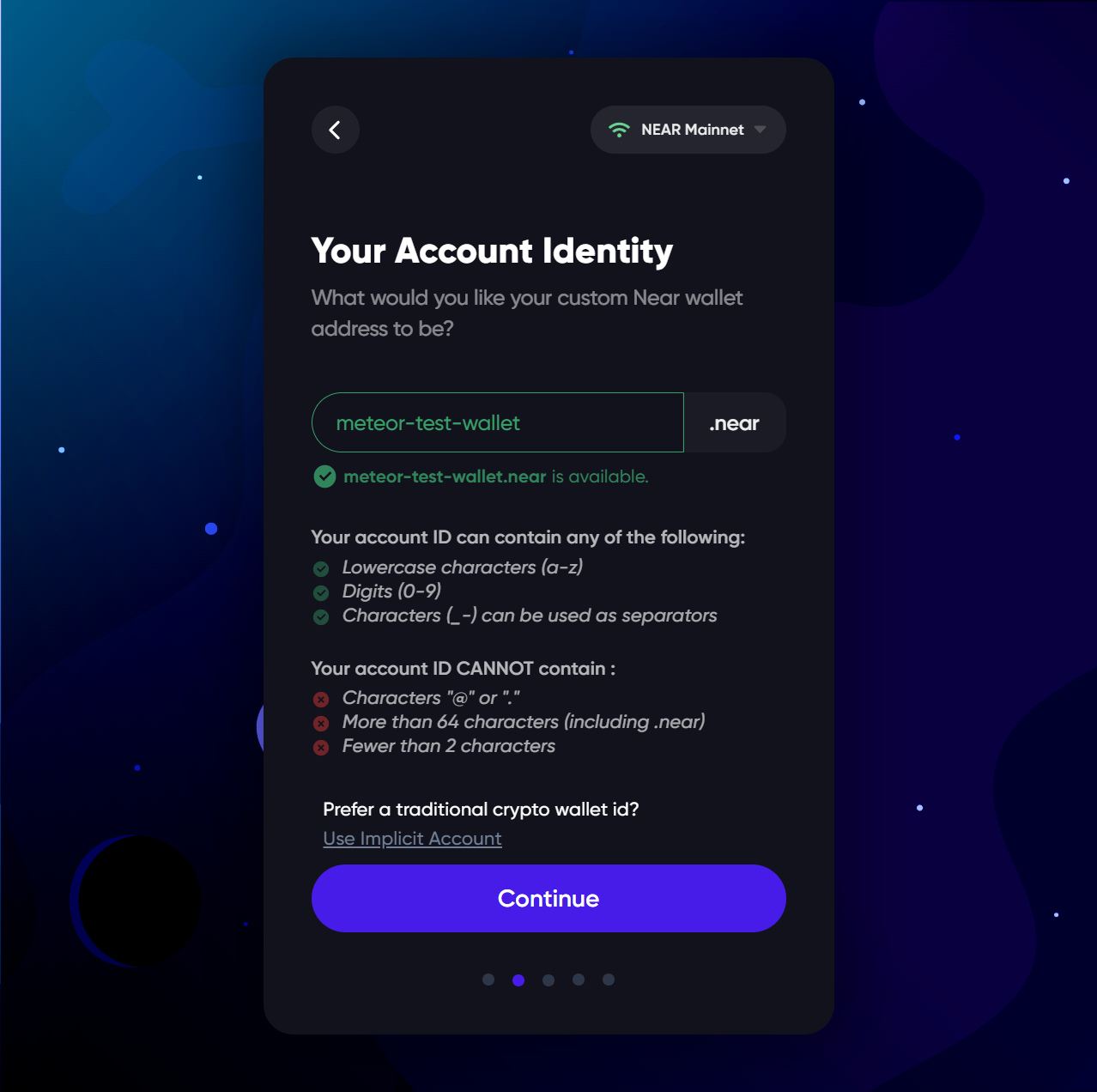 To get started, you'll need to create a password. Once your wallet is set up, you'll have the option to personalize your profile and even connect it to Near Social. If you're not importing an existing wallet, make sure to secure your new seed phrase.
(Click here to view the guide on how to import an existing wallet).
Additionally, if you prefer using a traditional address instead of a free named wallet for any reason, Meteor also provides the option to create an implicit account, as illustrated in the image above.
What does a free-named-wallet allow you to do?
SWAP FUNCTIONALITY
Swap functionality enables users to effortlessly exchange one cryptocurrency for another within the blockchain, and in this instance, without leaving the wallet. Meteor is the first and only wallet on the Near Blockchain to incorporate a Swap Aggregator, allowing users to easily compare and save with the lowest fees and slippage available.
The swap features in Meteor reinforce the concept of an all-in-one wallet. Users can swap up to 60 tokens (including stablecoins) with reputable swap providers such as Ref, Jumbo, Spin, and more.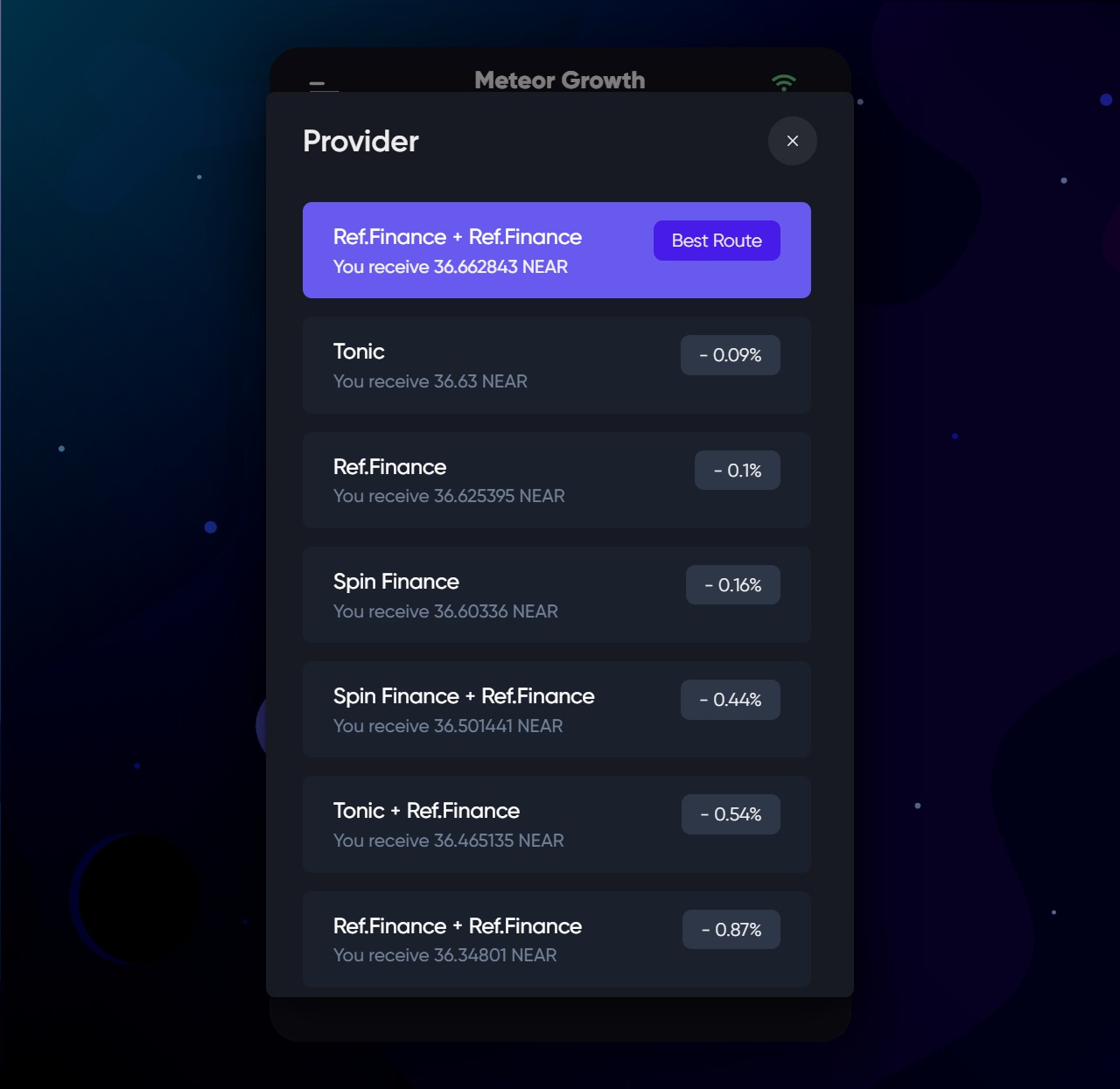 To begin exploring the swap functionality in Meteor, click here to access the user guide and learn how to get started.
What does "swapping" refer to?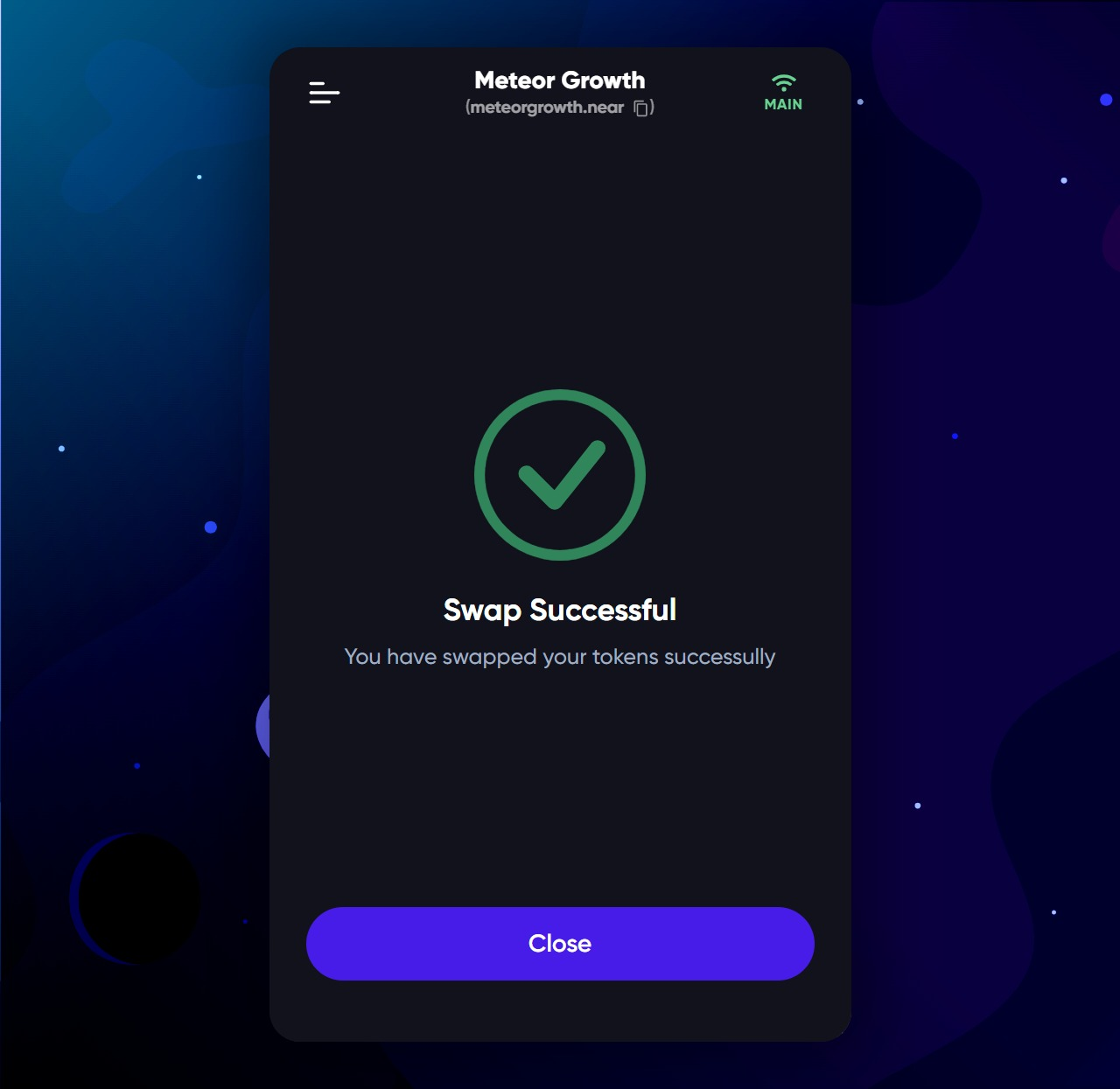 STAKING
The Meteor wallet offers two staking options: Liquid Staking and Standard Staking. Let's explore the differences between these two mechanisms and how to manage them:
Liquid staking is a unique feature that allows you to receive a receipt token as proof of ownership of your staked asset. This receipt token is transferable, storable, tradeable, and can be used in DeFi or compatible dapps. On the other hand, Standard Staking doesn't offer receipt tokens.
With Standard Staking on Meteor, you can earn staking rewards of up to ~10% APY. You can compare and select from 90+ validators and pools and see your estimated earnings. You can also choose to lock your stake for 7, 30, or 90 days.
To use Standard Staking in Meteor, simply follow a few simple steps in either the web version or the extension. You can choose from multiple validators with estimated APY and potential rewards.

Click here to check how to do Standard Staking on Meteor.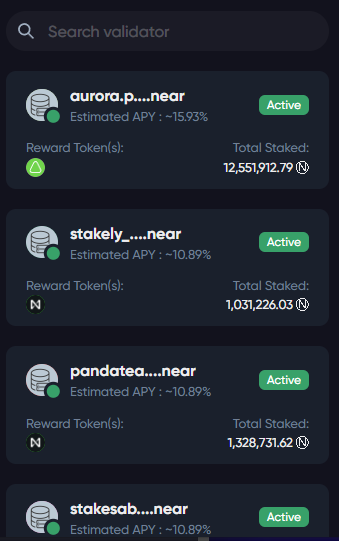 With Liquid Staking on Meteor, our partnership with Meta Pool allows you to receive stNEAR receipt tokens upon staking. These tokens can be used to engage in various DeFi activities on NEAR and AURORA.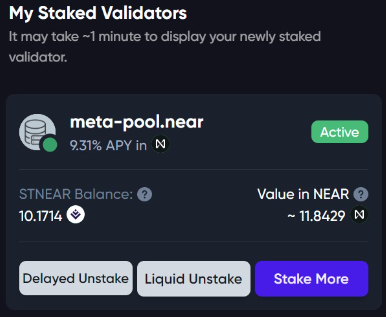 Click here to check our guide about Liquid Staking and how to do it.
Which is the main advantage of using Liquid Staking over Standard Staking on Meteor Wallet?
NFTs
A non-fungible token (NFT) is a distinct digital identifier that cannot be duplicated, replaced, or divided. It is recorded on a blockchain (NEAR in this case) and used to verify ownership and authenticity.
While most blockchain wallets allow you to send collectibles from one wallet to another, Meteor stands out when it comes to NFTs. It is the only wallet on NEAR that provides real-time updates on the floor price and total floor of each collection you own. Additionally, Meteor enables you to analyze your NFTs' traits and even set a collectible as your profile picture.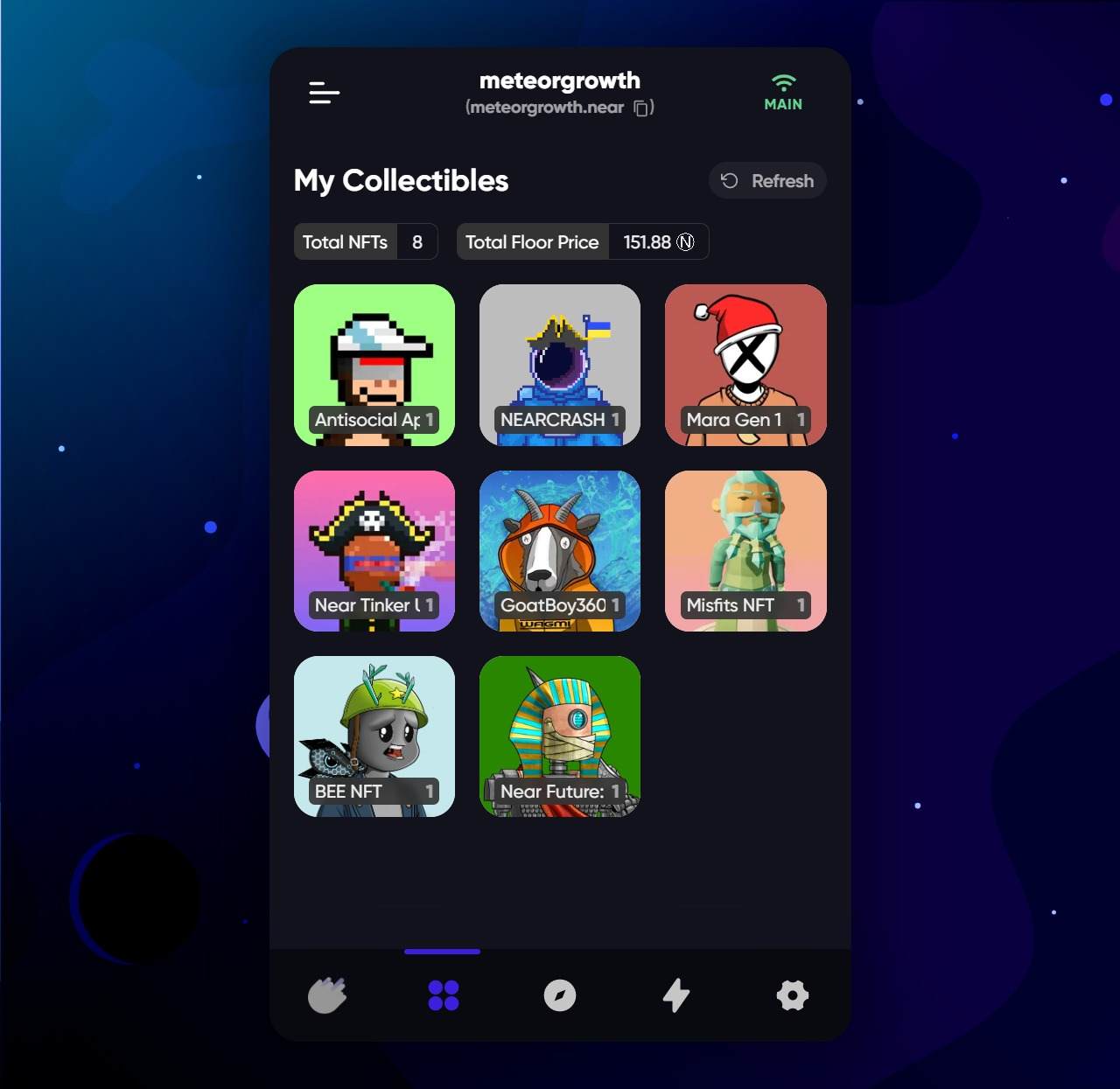 By clicking on a collection, you'll be able to view all the collectibles it contains, as well as each NFT's contract address, individual floor price, and the total floor price of your entire NFT collection. For a comprehensive guide on how to use NFT features within Meteor Wallet, please click here.
You cannot send NFTs from Meteor to a NEAR native wallet
EXPLORE
The new Explore feature in Meteor Wallet keeps you informed about the latest developments in Meteor and the NEAR ecosystem, including news related to dApps, NFT projects, and DeFi. This makes Meteor Wallet not only a tool for managing your assets but also a hub for learning and staying updated about the ecosystem.
Additionally, within the Explore section, you can take part in Meteor Challenges, where you can earn rewards through a Learn-to-Earn approach! Details on how to participate in these events, which often stem from partnerships with other projects, are available within the same wallet.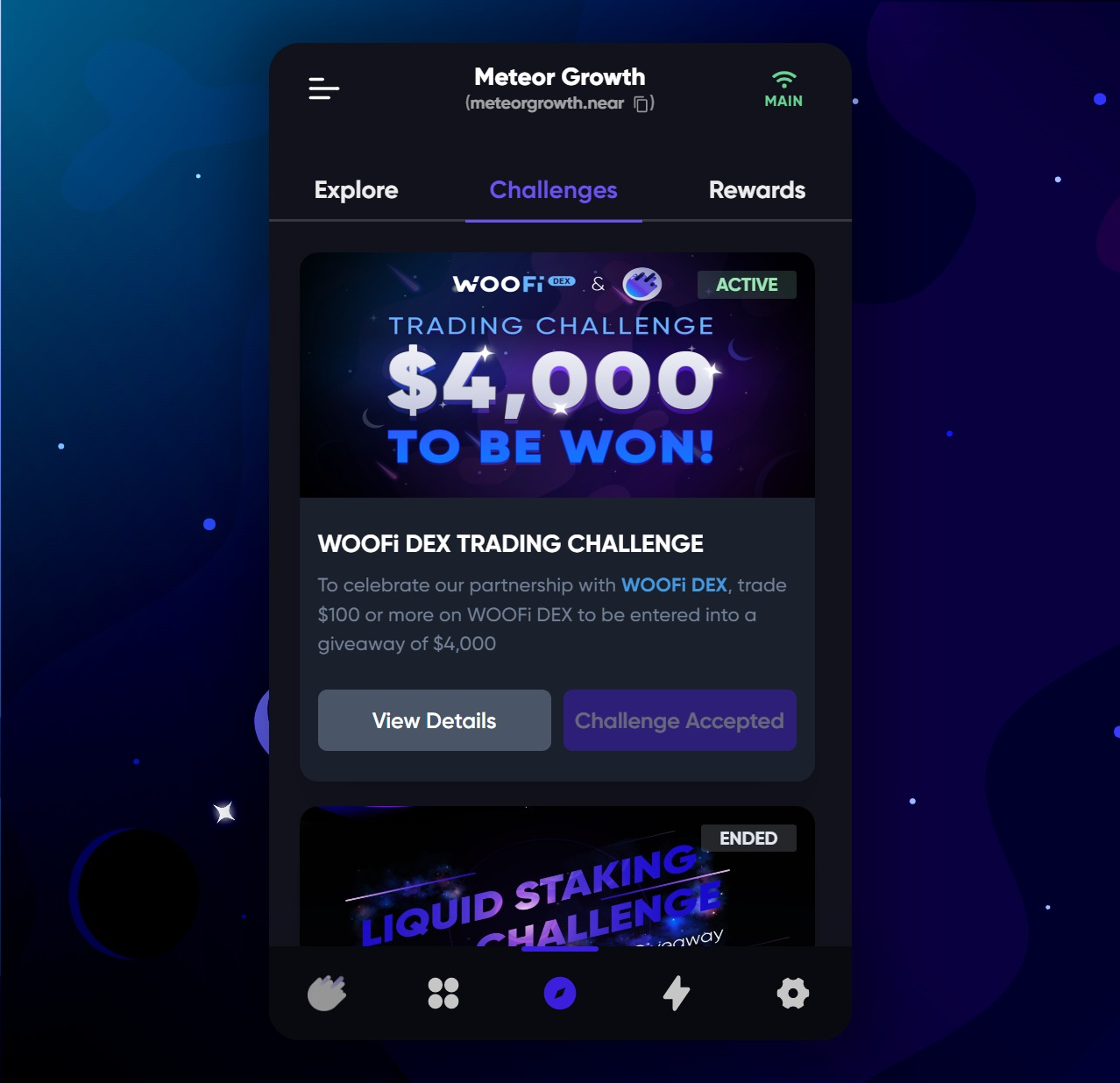 Meteor Wallet will soon be introducing a Rewards section! Stay tuned for this exciting update.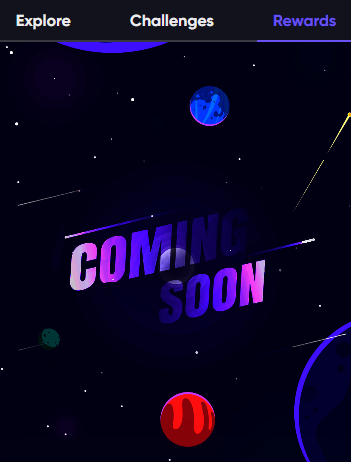 The Challenges section enables you to earn rewards through:
SETTINGS & SECURITY
At Meteor, security is of utmost importance. We strongly recommend storing your seed phrase and wallet password in a secure location known only to you.
Upon opening the settings tab, you will encounter the following options: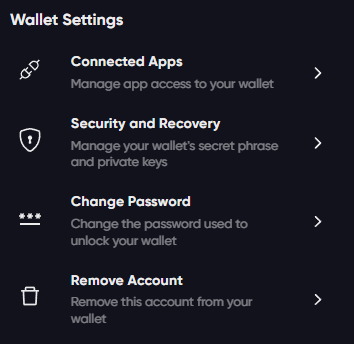 Connected Apps: This feature allows you to connect your wallet to Near Social. In the future, we plan to add options for connecting your wallet to social networks such as Facebook, Twitter, and Apple, to name a few.
Security and Recovery: Here, you can view and extract your seed phrase, as well as manage your private keys.
Change Password: If you believe your wallet's password is not secure, you can change it at any time, always exercising caution.
Remove Account: If, for any reason, you want to remove your account, you'll first need to enter your password and then confirm the removal. While some may consider this option unnecessary, we believe it is crucial for ensuring security and user freedom. Keep in mind that account removal is irreversible.
Currently, you can connect your Meteor wallet to:
FUTURE PLANS
Meteor Wallet has several exciting updates in the pipeline, including:
Meteor Support 2.0: An overhaul of our support system, which will feature the integration of Gleap and a single-ticket support system for email and in-wallet.
Meteor Explore 2.0: With even more dApps and games available!
Ledger Support: Planned for Q3 2023.
Social Logins: In addition to Near Social, we plan to add support for social logins via Gmail, Facebook, Twitter, Apple, and more.
iOS & Android Apps: Planned for the end of Q2 2023.
Support for Rich Media in NFTs: Collaboration with Harmonic Guild, with a tentative launch date later this year.